Messages & Chat
Messages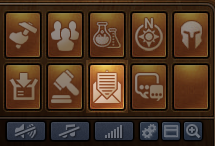 Communication is the key. To talk to individual players in your neighborhood, use your Messaging center to send messages and receive. In the forum you can also learn about updates in the game and interact with all of the players. But please make sure that when you communicate with people that you use a friendly tone and do not offend or hurt anyone.
Message players
If you want to send a message, enter the recipient's name in the "Write Message" field in the Messaging center. Write your message below, then click "Send Message" – and that's it. If you receive a message, the Message Center icon in your City View will flash. Received and sent messages and complete conversations can be found in the "Conversations" area. Use the magnifying glass icon to read a complete conversation – you can of course also delete it or continue.
Chat
To talk with players in your world, your neighborhood or your guild, pull down the chat window from the top right of the screen and choose the channel you like. Remember to keep it friendly and don't spam.
Guild Forum
Each Guild is capable of having it's own forum. The Founder may create forum sections and manage their forum, in addition to providing permissions for other Guild members.
Official Forum
You can reach the open forum either directly via the icon in the game, or just follow this link: http://forum.us.forgeofempires.com